Starter Motor & Alternator Specialists in Melbourne
There are times when our car doesn't start, no matter how hard we try. Though it might be due to an issue in the starter system, it is usually presumed that there could be some major issue in the vehicle. To find out what is disrupting your car's starter system, you can get in touch with Auto Inspections. No matter the issue your car is facing, our starter motor and alternator specialists offer you the best repair services in Melbourne.
What is the Starter Motor & Alternator Service?
At Auto inspections, we provide some of the best car alternator and starter motor service in the city. Our technicians identify the issue in your car with a thorough inspection. We accurately repair the starter motor and alternator to make sure that your car functions in an optimal manner. These car alternator repairs are done with the latest tools and devices for best results.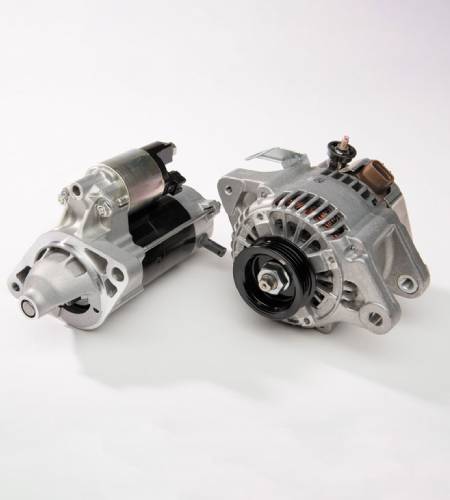 How Does Starter Motor & Alternator of Your Car Work?
A starter is a small motor in your car which is powered by a battery and helps the engine to work. If your starter is not efficient, your vehicle will not start or can suddenly stop while driving. On the other hand, an alternator is also an important vehicular component. It is an electrical generator that converts mechanical energy to electrical energy and charges the car's battery. Any trouble with the starter motor or alternator can cause a breakdown.
What is included in our Starter Motor & Alternator Services?
Auto Inspections provides some of the best auto care services that are easily accessible to ensure that your car's starter system or the alternator is in perfect condition.
Our Typical Starter Motor & Alternator Services
The starter motor and alternator related services include dealing with some of the following issues:
Starter Motor issues:

Most problems in your starter motor may happen due to loose wiring, bad relay or fuse, battery corrosion, worn-out parts in the system, or oil leaks. To get your car back in action, we provide you with the appropriate vehicular assistance. With our starter motor and alternator service, each tooth of your ring gear is examined. All the damaged parts are repaired to make your journey safe and if required, the flex plate and ring gear are replaced by genuine parts.

Alternator issues:

A faulty alternator is the result of a loose drive belt, poor battery connection, fluid leak, or long usage. It's best to replace a weak alternator at the earliest. Our experts use cutting-edge technology to get your alternator replaced or repaired properly.
Auto Inspections is amongst the reputed centres across Dandenong that can take care of all your auto repair services. We offer an accurate diagnosis and repair of the starter motor and alternator of your car. You can call us on 0431 933 339 or email us at info@autoinspections.com.au to know more about our auto repair services.
FAQs: